Donate
DONATE:
The Lawrence L. Lee Scouting Museum and Max I. Silber Scouting Library have grown through six decades largely as the result of generous contributions of time, talent and funding. As a non-profit organization, we must continue to rely on Scouting, public, and corporate resources in order to continue to grow and thrive.
---
ARTIFACTS:
It is often the case that older generations of Scouts and Scouters pass on, and families do not want, or do not know what to do with, uniforms, patches and other artifacts which were personally collected throughout the years. We always accept donations of these items, which can be brought to the Museum during operating hours, or brought to the Daniel Webster Council Service Center when it is open. We ask that every donor fill out an Artifact Donation Form before delivery, so that we can accurately understand the source of donations, and give proper credit where due. When donations duplicate items that are already part of the collection, we will display the better quality item and often sell duplicates as a fund-raiser.  Click this link to download and print the Artifact Donation Form.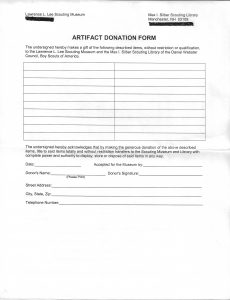 Please fill it out as completely as possible and submit it with your donated items, You should retain a copy of it for your personal records, especially if you plan to itemize the value of your donation on your Federal Income Tax forms.
---
TIME AND TALENTS:
As an entirely volunteer-managed resource, the Museum Committee is a huge advocate of the old adage "Many hands make light work". Adults or youth who are or were Scouts or Scouters, have an interest in Scouting or history, or have experience with collections and museum or library science are very valuable. They are also very scarce! No experience is necessary, and we will train interested individuals. All volunteers must be registered members of the Boy Scouts of America and, in some cases, the Museum will cover registration and training costs.
---
FUNDING:
Companies and individuals who wish to support the Daniel Webster Council, which supports the Museum, can specify or request that their donation be applied to the future growth and development of the Museum and its collection.
L.L. Lee Scouting Museum
Daniel Webster Council
Boy Scouts of America
Mail: 1500 Blondin Road, Manchester, NH 03109
GPS: 395 Bodwell Road, Manchester, NH 03109
603.867.2501
Email: through the CONTACT US page on this website, or to joebidrisky@gmail.com